Gingerbread S'Mores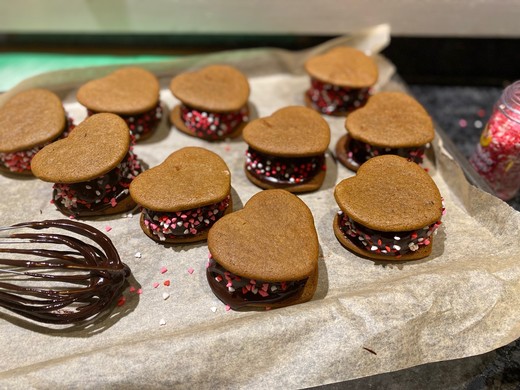 Recipe Date:
February 14, 2023
Measurements:
Imperial (US)
As nature lovers, camping is a family fave and anyone who knows me is well aware of another lifelong love...of s'mores. Gathering around a campfire along the chilly Oregon coast or in the Redwoods of California has been a family tradition since my childhood. We would spend the day hiking and gathering sticks to whittle down to (kid-friendly) spears, pop open the bad of fluffy marshmallows by starlight, and see who could toast to them to gold brown perfection - without lighting them on fire. (Tip: Never toast over an open flame. Wait until the wood develops good coals around the perimeter and then slowly rotate to get an even toast that warms through to the center. It requires a little patience, but it makes for the ideal temp to melt the chocolate without torching and creating those harmful carcinogens on the exterior.)
Ingredients
2 1/4 cups All Purpose Flour, spooned into the measuring cup and leveled
1 tsp Baking Soda
3 tsps Ground Ginger
1 tsp Ground Cinnamon
1 tsp Ground Cloves
3/4 tsp Sea Salt, Finely Ground
3/4 cup Butter, room temperature (I use Kerrygold brand for richness)
1 cup Dark Brown Sugar (packed)
1 Large Egg, room temperature
1/2 cup Unsulfured Molasses
1 Bag of Jumbo Round or Square Marshmallows
1 Bag of Dark/Bittersweet Chocolate Chips (at least 72% Cacao)
Maldon Smoked Flake Sea Salt (optional)
Seasonal Sprinkles to decorate (optional)
Directions
*I usually double the batch ingredients to make these in bulk. You can always freeze extra cookie dough and save (double-wrapped tightly in plastic) for up to six months or so.
Directions:
-Sift the dry ingredients into a bowl, then whisk well to combine
-Using a mixer with a paddle attachment (or hand mixer with regular beaters), cream the butter and sugar until the sugar is fully integrated and the mixture is fluffy
-Add the egg and molasses to the butter and sugar mixture until combined
-With the mixer on low, slowly add the dry ingredients and mix until combined.
Resting:
-Divide the dough in half and flatten into discs. Then cover with plastic wrap and chill overnight (or up to two days) to fully develop the flavors
Baking the Cookies:
-Preheat the oven to 350 degrees (Fahrenheit)
-Roll out the dough on a floured surface to about 1/4 inch thick
-I usually cut them into 2x2 inch squares or use a 2-inch round biscuit cutter with a scalloped edge - you can use whatever shape you like! As you can see, we used heart-shaped cookie cutters for Valentine's Day treats.
-Pop the loaded cookie sheets in the freezer for a few minutes to help prevent too much spreading
-Bake 12-14 minutes; shorter cooking time for a chewier cookie and longer for more crunch
-Let the cookies cool on the cookie sheet for a minute or two before transferring to a wire rack to cool completely
Marshmallow Prep:
-To get best ratio of cookie to marshmallow, I cut jumbo rectangular marshmallows in half along the equator (not vertically).
-Place the marshmallows (sticky side up) on a cookie sheet - spread out enough for toasting. *TIP: You can place this in the oven as your oven is coming to temp. Just be careful to watch them and only warm enough to make them slightly pliable/squishy.
-I use a mini-kitchen torch to toast my marshmallows, but you can also set your oven to Broil and use this method. Use the top rack and be very careful to keep a close eye on them so they don't burn! You may also have to rotate your cookie sheet, depending whether your oven heats evenly.
*Toast only enough to get the edges golden brown, but the center is still firm enough to maintain its shape
-Cool completely and then move on to prep the cookies and ganache
Assembly Prep:
-Place your bottom layer of cookies on a cookie sheet covered with a Parchment Paper
-Stack your top halves of the cookies on the side to get ready for fast assembly after making the ganache!
Chocolate Ganache:
-Heat the Heavy Cream in a small saucepan until steam starts to rise off of the top - make sure not to boil it or you'll scald the cream and have to start over.
-Pour the chocolate chips into a heatproof (non-metal) bowl, then pour the hot cream over the top
-Let the mixture sit for a couple of minutes, then slowly stir with a spatula; mix until fully combined and the chocolate has a nice sheen
Assembly :
(TIP: Gloved hands (powder-free nitrile), a salad forks, and extra sets of hands make this go smoothly with less stress!)
-Working quickly, dip the cooled marshmallows in the chocolate until coated
-Place the coated marshmallow on a bottom cookie and add the top, pressing lightly to help it adhere
*Optional - Before adding the top cookie, add a very scant sprinkle of the Maldon Smoked Flake Sea Salt for a little surprise salty campfire kick!
*Optional - While the chocolate is still warm enough - grab each cookie sandwich and scatter your sprinkles around the circumference to add a pop of color.
(TIP: Do this over a large bowl to catch anything that doesn't stick - and keep extra mess contained!)
(TIP: If you like your chocolate to have more of a firm snap, omit the heavy cream and microwave the chocolate chips in 20 second intervals - checking and stirring around each time - just barely until the chocolate is melted and smooth. If you heat it too much, your chocolate will seize - and that's a whole other issue entirely!)
*You can make these several days in advance and store in Tupperware containers. They keep pretty well, if you can make them last that long...
Sign Up For Our Newsletter!
Stay in the know on what's happening in the vineyards, the cellar, the kitchen, and more!